DE&I – 7 tips to creating inclusive policies and processes
If you have started your inclusive hiring journey, by now you may have spoken to experts that can help you outline current policies and work on improving these.
This is absolutely worth doing if you haven't already. It will cost, but it means you get it right the first time and provides confidence in the results.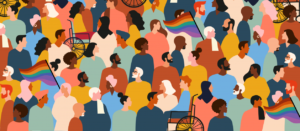 If not, here some things you should consider:
1. Review your job descriptions.
Every company/industry has their own language as such. But this can easily confuse new talent and leave them unsure of what's needed from the get go. Be clear and concise and highlight the absolute MUST HAVE skills to be successful in the role.
2. Use a language checker
This can help with the above – it means you avoid certain terminology that may be considered bias. There are plenty around if you do a Google search – we use Diversely.io
3. Review where adverts are placed
Broaden where you post adverts to reach wider talent pools. LinkedIn is huge, but don't shy away from other socials and a mix of job boards – so many of which are free!
4. Review your candidate selection process.
Discuss examples, accommodating those with physical disability, blind cv's, interview panel, competencies over skills and so on.
5. Plan your interview process and remove unnecessary steps:
Think about the individual roles of your panel members – do they need to be involved and does the panel represent inclusivity
What do you need to know at this stage? What is needed in order to be successful in the role NOT "do you fit in with our culture"
Score applicants answers – keeping scores against skill set is a great way to remove bias. You base ability solely on skills and can compare fairly across all interviews
6. Review your onboarding process:
How are managers expectations supported to accommodate different needs, introductions internally, group activities reviewed, physical accommodations made etc.
7. Review the company culture/activities
Are these suited to all regardless of religious background, parenting responsibilities, gender, age.
Consideration of legal context:
Review the definition of a necessary adaptation/adjustment and understand clearly when it is legally required and what an employer's duties are.
Understand the difference between positive action and positive discrimination; for example, can you have women only shortlists?
Gain confidence in dealing with issues arise by understanding the legal discrimination protections: for example, what is the difference between indirect disability discrimination and discrimination arising from a disability.
Once you have highlighted the changes and redefined the process. GET IT IMPLIMENTED! Don't spend time and resource on something you aren't truly committed to.
If you'd like more support or information on creative inclusive processes internally, please get in touch directly:
letitia@elizabethnorman.com
Alternatively, download our DE&I guide here.